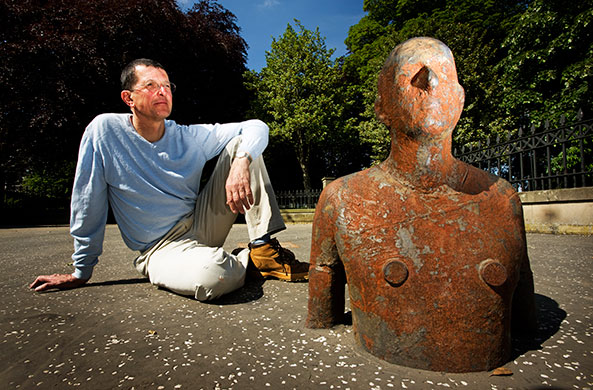 In the far mists of time when I was studying for my art GSCE, a friend and classmate called Jude, made an amazing discovery. Following a suggestion from his Sister, Jude stuck cut-out newspaper headlines (stuff about war and pollution and Africa), around his slightly dodgy, 2B pencil and poster-paint representations of cow bones . What he hadn't expected was the rapturous response he received from our Art Teacher, Mrs. Warwick, who thought this was the greatest artistical innovation, since middle-class Westerners discovered batik.
Following this success, Jude prepared an artist study, with of a painting of a desert and some droopy clocks(inspired by Salvador Dali), surrounded by newspaper headlines about scandal. He then went on to produce his major project, which featured a gouache seabed, with pencilled fish bones and aquatic skeletons, surrounded by headlines about, oh, oil being bad or something. For his piece de resistance, Jude's final art exam... actually I can't remember, but I'm dam sure it had bones and newspaper headlines.
I give this story, because it seems to me that Antony Gormley has followed a similar career path in the grown-up world of art, as my mate Jude did at Judgemeadow Community College. Only instead of bones and newspaper headlines, Gormley has figures. Also like Jude, Gormley seems to enjoy most success, when he sticks most closely to this formula (i.e. figures on Crosby Sands = good, random plinth in Trafalgar Square=bad).
While it may appear that I'm being snide about Antony Gormley's work, it is with some affection. For me he's like the Abba of the sculpture world; you know it's cheesy, but you can't help liking the Angel of the North (or SOS).
Hence I thought I'd share some recent Guardian photographs of '6 times', Gormley's new installation of 6 figures leading from the Scottish National Gallery of Modern Art to Edinburgh's Leith Docks.